So you have moved in?
Congratulations!
Perhaps it is your first time to be on your own and there are new post-move essentials that you need. We are glad that you are here. Our new home checklist includes everything from the essentials to some upgrades that will enable you to make the most of your house.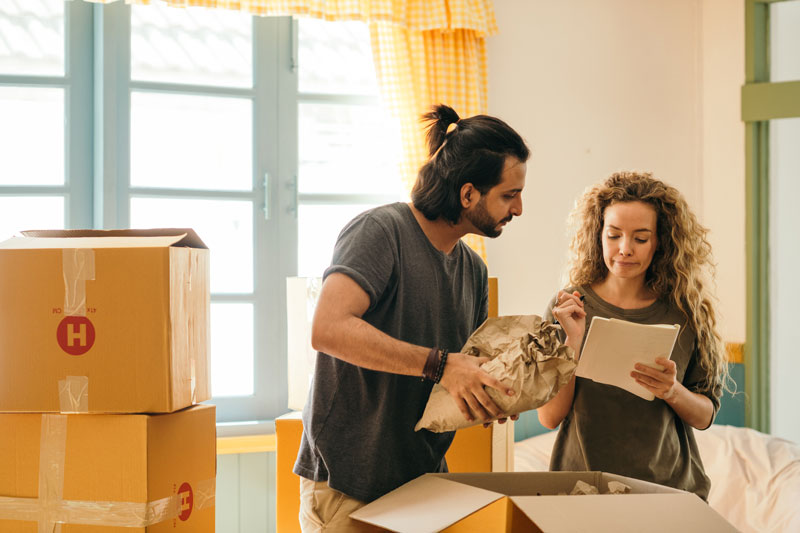 LIVING ROOM ESSENTIALS
The living room is one of the places where your family spends quality time together at home. It is, therefore, worth it to invest in appliances, furniture, and other pieces that will make this space as comfortable as possible. Here's the new home checklist for your living room.
Appliances
Television
Soundbar
Streaming devices for your TV
Content and cord-cutting
Furniture
TV stand or media center
Couch
Coffee Table
Coasters
Other seats like armchairs, stools, poufs, and rocking chairs.
Side Table
Book Shelf
Throw Pillows
Throw Blankets
Area Rug
DINING ROOM ESSENTIALS
The dining room is another essential part of a home as it is where a family gathers to dine and have a chit chat. A new home checklist of post-move essentials will not be complete without the following dining room essentials that will make your family's meals more enjoyable. 
Dining Table + Chairs
Table Runner
Table Cloth
Place Mats
Candles
BEDROOM ESSENTIALS
Nowadays, it is easier than ever to have a nice bed directly delivered to your new home before, during, or after your move-in day due to the new mattress companies budding online. The good news is that you will likely pay less than you would, walking into your local furniture shops. A new home checklist for bedrooms includes the following: 
Mattress
Bed frame
Pillows
Mattress pad
Sheet sets
Comforter + duvet cover
Full-length mirror
Nightstand
Lamp
Dresser
Laundry hamper
Trash can + bags
Curtains
Alarm clock
Under-bed storage
Fan + Space heater
CLOSET ESSENTIALS
A closet is an enclosed space covered by doors used for the storage of clothing items. Important files, documents, and jewelry are sometimes stored in the closet as well. Below is a new home checklist of closet essentials that you need to consider:
Hangers
Door hooks
Hanging rod
Shoe rack
Hanging shelves
Shelf organizers
Storage boxes
Door mirror
Drawer Organizers
Large bins
Space saver bags
BATHROOM ESSENTIALS
The bathroom can provide that momentary spot of solitude and a great space for unwinding from the stressful day with a good warm bath or a hot shower. This is why the bathroom is more than just another room in your home. It becomes a safe room.  
Shower curtain
Curtain rod + hanging rings
Shower caddy
Hand soap
Toothbrush
Toothpaste
Toothbrush holder
Toilet paper
Toilet paper holder
Toilet brush
Plunger
Bath mats
Bathroom scale
Trash can + bags
Candles or air freshener
Tissues
Towels
Towel hooks, shelves or bars
Washcloths
KITCHEN ESSENTIALS
The kitchen is an essential space at home as it is among the most important places for communication, seating, and storage. It contains the tools and appliances needed for preparing any kind of meal. Without the kitchen, a house may feel empty and disorganized. 
Necessities:
Trash can + bags
Standing mat or kitchen rug
Step stool
Cooling mat
Magnetic hooks
Oven mitts
Sponges
Dishwashing soap
Dishtowels
Paper towels
Napkins
Drying racks
Can opener
Plastic bags
Ice cube trays
Parchment paper, wax paper, aluminum foil, and plastic wrap
For Eating:
Dishware including plates, bowls, serving platters, glasses, coffee mugs, and wine glasses
Silverware including steak knives, flatware sets, and silverware organizer
For Cooking:
Utensils including spatulas, tongs, whisks, ladles, and skimmer
Utensil holder
Knives
Cutting board
Measuring spoons and cups
Pots and pans
Bottle opener and corkscrew
Tupperware
Baking sheets
Kitchen Appliances:
Microwave
Oven Toaster
Coffee Grinder
Coffee Maker
Salad Spinner
Blender
Colander
Kettle
LIGHTING ESSENTIALS
Lighting is often an overlooked factor when furnishing a new home, even though it can define a space or room. Does a room receive a lot of sunlight throughout the day? If not, it might be necessary to install some lights that will brighten up the space during the day. If recessed lighting in your ceiling is not enough, you will need bigger lamps to keep everything well-illuminated when the sun is down. Also, it is a good idea to place a couple of table lamps for a cozy atmosphere at night. 
HOUSEKEEPING ESSENTIALS
Cleaning supplies including rubber gloves, stove cleaner, Clorox wipes, paper towels, Windex, and rugs
Fabric softener, stain remover, laundry detergent, and bleach
Washing machine
Flat iron + ironing board
Broom + dustpan
Trash bags
Vacuum cleaner
Surge protectors
Extension cords
Lightbulbs
Flashlight
Matches 
Candles 
Batteries 
Photo hanging kit
Tools including a hammer, screwdrivers, pliers, box cutters, drill with bits, socket wrench set
WD-40
Duct tape
First aid kit
HOME OFFICE ESSENTIALS
Desk
Chair
Computer monitor
Bookshelf
Filing cabinet
Whiteboard + markers
Trash can + bags
Surge protector
Extension cord
Office supplies including pens, pencils, desktop pen holder, printer paper, sticky notes, and batteries
ENTRYWAY ESSENTIALS
Welcome mat
Key hooks
Area rug
Small table or bench
Coat + hat rack
Mail organizer
Lamp 
SMART HOME TECHNOLOGY
Adding a couple of internet connected devices at home will make your life better and more convenient, giving you peace of mind whenever you are away from home. There are two essential devices you will want to add to your post-move essentials: a modem and a router.
Internet modem – It is usually provided by a cable company, though you will have the choice of buying your own.
WiFi Router –  A router enables you to connect to the internet wherever you are in your home through a WiFi connection. 
OTHER THINGS TO CONSIDER
New locks – It is a good idea to buy new locks for your new home, as you don't know who has duplicates of the keys. 
Security safe – Keep your valuables protected in a safe especially if landlords, neighbors, or handymen come in and out of your house.
These are some post-move essentials that you should add to your new home checklist. They will help you determine what you have to buy for your new house. For a safe relocation to your new place, look for a moving service company in your locality.