After a long tiring day, all you need to do is to freshen up in a neat and clean bathroom. Our days can't start or end without bathrooms so it is wise to research before building one. Whether you are building a new house or remodeling the existing one, it is essential to find the right products.
Every homeowner has unique needs and expectations from their bathrooms but a few features are desirable in all places. Some of them include comfort, ease of maintenance, privacy, and functionality. If you have kids or elders at home, you should also include safety features with great care.
Types of Glass Shower Doors
Modern shower doors are also designed to create amazing aesthetic appeal. When it comes to choosing the best door type for their house, homeowners often get confused as there are so many options available.
With slight variations in design, privacy, thickness, and quality, there is a huge variety of shower doors. It is best to consult your home remodeling contractor to learn about the most suitable door design for your home.
If you want some inspiration in general, the following is a brief detail about modern shower door types. Read along to check what suits your requirements and budget limits.
1. Sliding Shower Doors
Sliding doors are very popular because they are appropriate for almost any bathroom design. It is also known as a bypass door. The door construction is pretty simple as two panels are propped on a track.
The glass panels can slide along the pathway without needing any extra space. Modern versions are much more user-friendly as they have mechanical rollers installed in the door tracks. They offer incredible aesthetic appeal and functionality.
2. Hinged Shower Doors
As the name suggests the door is hinged. They are the most conventional shower doors on this list. The pivot joints allow the glass panel to swing open and close. Their operation is exactly like the other doors in a house.
The design is pretty conventional but you can find them in almost any glass type so they can fit into any bathroom design. The operation is safe and efficient. The only issue with this door type is that you need extra space to allow the door to swing.
3. Folding Shower Doors
If you are trying to find a shower door for smaller bathrooms but don't want to compromise on aesthetic appeal, folding doors are for you. These classy and elegant doors bring new life into the dullest of bathroom designs.
They are two different designs generally available known as bi-fold and tri-fold designs. The unique folding mechanism looks incredibly modern.
One of the glass panels is fixed to the wall whereas others are free to fold over flexible hinges. This door design is a bit more expensive than conventional swing doors. 
4. Fixed Bathroom Doors
Fixed bathroom doors are installed to separate an area with aesthetically appealing doors. They are mostly used in highly modern restrooms and powder rooms. Once the glass panels are screwed into fixtures, they do not move.
Fixed doors are suitable for larger bathrooms so if you are finding a suitable option for smaller bathrooms this may not meet your needs. Homeowners look for different textures and designs to enhance the aesthetic appeal of fixed glass doors. Tinted glass is very popular these days.
5. Framed Shower Doors
Any of the above-mentioned door types can be made into a framed version. Framed shower doors are highly popular these days. Metal strips are installed around the borders of every glass panel to give a defined look.
The strips can be made up of aluminum that is not affected by moisture or any other composite material. When you are looking to add extra elegance to your bathrooms, invest your money in framed shower doors.
6. Frameless Shower Doors
You must have grasped the idea from the aptly given name of frameless shower doors.  Any of the door designs can be manufactured into a frameless version. You will find frameless doors in most of the bathrooms as they have been used for decades.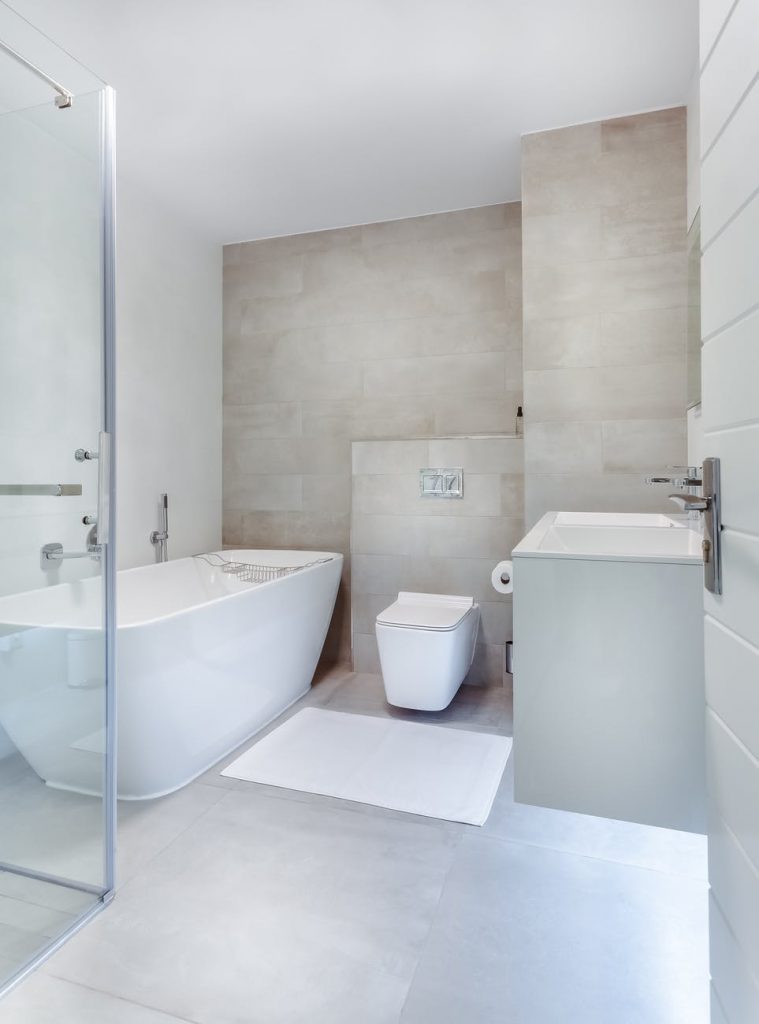 It is suitable for people who prefer the appeal of plain glass over any framed version. Frameless shower doors are affordable and easy to maintain as compared to framed doors.
7. Semi-Frameless Doors
There is a middle ground for people who do not want their bathroom doors to be frameless shower doors or completely framed. Semi-frameless doors are created to enjoy the benefits of both types. You get a defined border look without spending too much money.
8. Frosted Shower Doors  
If you are looking for a shower door that provides privacy and offers unmatched elegance, install frosted shower doors. The glass is semi-opaque and lets the light through it while you enjoy privacy.
Read Also: