Space saving bunk beds for small rooms are the stuff of childish fantasies. Summer camp or large family trips come to mind. Maybe you didn't grow up with bunk beds and aren't as enthusiastic about them now, but you have to agree they're useful for space planning. And when they're built properly, dressed properly with good mattresses, sheets, silk duvets, they're completely luxurious.
Bunk beds are a fantastic idea for small rooms. Aside from the attribute of space saving, they're also entertaining and, when done correctly, may appear rather stylish.
The bunk bed design is all about fusing a joyful, dynamic attitude with space-saving solutions that help maximize the potential of a small room. It pays to think vertically when space is premium in urban, city residences.
Contemporary bunk beds come in an unlimited range of forms, sizes, and components and are a brilliant blend of ergonomics and a variety of wonderful aesthetics. The space saving bunk beds for kids and adult range from classic loft-and-lower-bed variants to updated Murphy bed prototypes, with plenty of drawer space, built-in shelving, and climbing capabilities.
Many have a third trundle bed for extra visitors and a hidden trunk for additional storage. Certain wall unit bunks include built-in closets and study areas, thus transforming them into mini-bedrooms.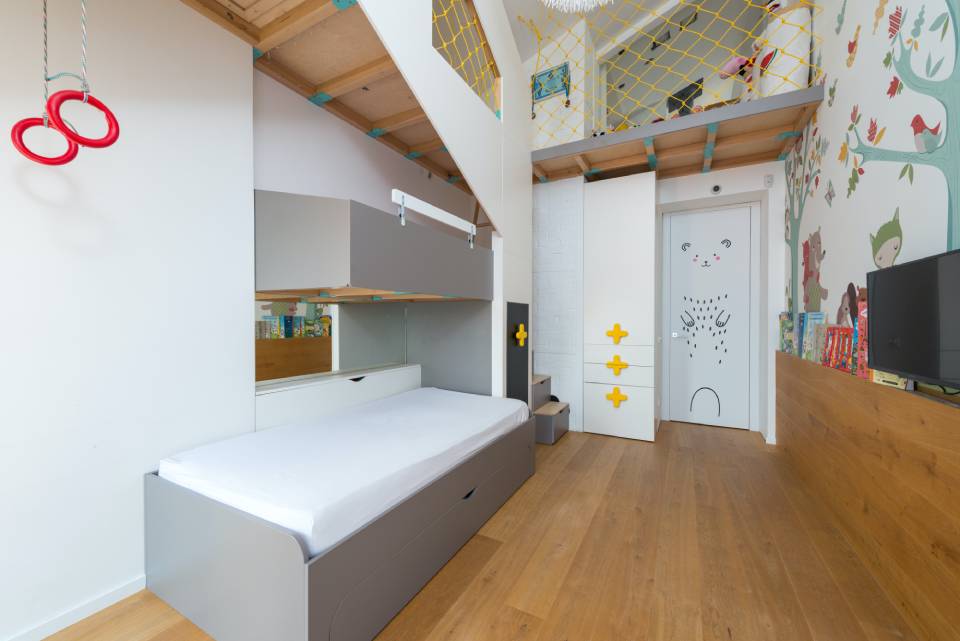 If you still think bunk beds are just for kids, be assured that many adults are opting for the on-trend and ultra-modern 21st-century bunk beds.
Space-Saving Bunk Beds for Small Rooms
These space saving bunk beds for small rooms are likely to prompt some major sleepover requests. Bunk beds are ideal for small spaces, or just those who want a more unique–and drop-dead-delightful–bedroom plan.
1- Trundle bunk bed
Trundle bunk beds provide optimal storage while also providing three beds for the price of one in tiny places. They are fashionable.
Trundle bunk bed pros:
To rapidly tidy up and improve the appearance of the room, an unmade trundle bunk bed can be stuffed under the main bed.
Trundle bunk beds can easily pull out and under the top bed without making a lot of noise or being too difficult to use.
They provide the ideal sleeping quarters for overnight visitors.
To rapidly tidy up and improve the appearance of the room, an unmade trundle bed can be stuffed under the main bed.
You can keep the main bed and sell the trundle when you outgrow the trundle or opt to upgrade to a separate bed.
Trundle bunk bed cons
The lower bed will not last years of everyday use and will come apart and wear out far sooner than the top bed.
If you want to use the trundle bed, you'll need to clear a lot of space on the floor.
Children who use a trundle bed frequently may be frustrated that it is pushed back under their sibling's bed during the day, denying them their own area.
When getting down from the upper bed, the child must be cautious.
2- Futon bunk bed
Futon beds have also gone a long way, and while this piece of furniture was formerly associated with college dorm rooms, modern and sleek versions are now available, especially if you prefer a minimalist aesthetic.
Futon bunk bed pros
These beds are simple to convert from sitting to sleeping, and they may even have high-density foam mattresses that are suitable for both purposes.
They are a cost-effective and adaptable piece of furniture.
Futon bunk bed cons
Futon beds lack the elegance and quality that a sofa may provide to a room.
They can also be uncomfortable, especially if the quality is inadequate and the mattress is thin.
They might not be suitable for everyone's taste.
3- L-shaped bunk bed
A lot of folks are opting for L-Shaped Bunk Beds these days. These are quite easy to use. They usually have enough capacity for a study table on the bottom level and two youngsters in the two layers.
L-shaped bunk bed pros
It can comfortably accommodate both of your children's beds.
When opposed to putting two beds into a room, this method saves a lot of space.
They aid in the development of a brotherly feeling and a link between two siblings.
These beds come with bedside tables in the lower layer, which is ideal for storing books.
They give kids sharing a bed complete privacy.
L-shaped bunk bed cons
It takes up more space than traditional bunk beds or loft beds; it can be a little inconvenient.
When it comes to children, all safety precautions must be taken to ensure they do not fall or injure themselves. Steps or ladders must be quite strong.
This is not a good*For person who suffers from claustrophobia.
4- Loft bunk bed
Instead of a second bed, the loft bunk bed design uses the fundamental framework to free up extra floor space in a bedroom by hoisting a bed up and leaving empty space below. This gives you more options, allowing you to put a workstation, storage, or a simple open play area beneath the bed.
Loft bunk bed pros
The loft bed is a lot of fun! It could become a new area for your child to play.
The loft bed will give the sleeping area some autonomy, allowing the youngster to immediately relax and unwind from their surroundings.
Interiors with a loft bed appear to be quite unique and imaginative.
Loft bunk bed cons
A fall from a high bed is a possibility. On the other hand, modern beds have high enough protective sides and railings. Then there are models who are short in stature.
Filling the bed and waking the child from a height of two meters is quite inconvenient.
Warmer air is thought to collect beneath the ceiling, making sleeping in such a bed uncomfortable and stuffy in the summer.
5- Triple bunk bed
Triple bunk bed is a terrific space saver and the ideal way to accommodate three youngsters in one room.
Triple bunk bed pros
If your needs change, it may easily be transformed into a standard bunk bed and day bed.
It is a piece of furniture that is both useful and visually beautiful.
Triple bunk bed cons
They can be dangerous for small kids as the height may be close enough to the ceiling.
Due to height issues, the difference between beds is lesser than a regular two-story bed.
6- Stairway bunk bed
The stairway bunk bed is an excellent choice for any child's room that requires additional storage.
Stairway bunk bed pros
It comes with a secure set of steps that make it easy to reach the bed.
Storage compartments in the stairs are ideal for extra sheets, blankets, and pillows.
Stairway bunk bed cons
Storage drawers may get damaged with stuffing.
Conclusion
There are multiple bed options available in the market but we have listed out the top bunk beds for small rooms. We have reviewed each and every bunk bed for your ease. We mentioned pros and cons so it totally depends on you according to your budget and space.